Kendal Futures
Kendal Futures is the regeneration partnership for the town and works to encourage investment and make it possible. It's board contains a mix of people from the public and private sector.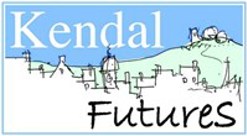 Kendal Futures has helped to deliver and make possible a range of economic regeneration projects. 
Kendal Evening Economy Study
Kendal Futures engaged a team of five MBA students from Lancaster University's Management School, with funding support from Kendal Town Council to research Kendal's evening economy, identify trends and issues and make recommendations for future improvement.
Kendal Evening Economy Research Report (PDF/3.57MB/41 pages)
The Kendal Economic Growth Action Plan (KEGAP)
A new profile of the Kendal Economy for 2014 was also completed as part of making the new plan.
Kendal Public Realm Design Framework
Public realm describes the spaces and streets between buildings, typically those seen and used by the general public. This Public Realm Design Framework for Kendal has been produced to help co-ordinate and prioritise investment in public realm projects, and to ensure that developers can use consistent high quality materials appropriate to the town.
Kendal Public Realm Design Framework (PDF/42MB/222 pages)
Annual report
Kendal Futures 2016-2017 Annual Report (PDF/1.30 MB/8 pages)
Members
Kendal Futures Board Individual Members (PDF/104KB/1 page) Many of the board members have paid money towards projects.
Kendal Futures gets funding to support a part time project coordinator from Kendal Town Council, South Lakeland Local Committee (Cumbria County Council) and South Lakeland District Council.
Kendal Futures Board minutes
Kendal Futures Board minutes January 2018 (PDF/200KB/4 pages)
Previous Kendal Futures Board minutes  
Kendal Futures press releases
Market Place Project media release (PDF/84KB/3 pages)
Regeneration Partnership media release (PDF/76KB/3 pages)
New website and leaflet series media release (PDF/176KB/2 pages)
Kendal Brand media release (PDF/64KB/2 pages) 
Kendal Evening Economy Study media release(PDF/176KB/2 pages)
Kendal futures documents archive  
More information
Contact Paula Scott, project co-ordinator for Kendal Futures.
Telephone: 01539 793 284 or 07585 665 636
Email: p.scott@southlakeland.gov.uk