Asbestos
For the safe removal of asbestos related products, asbestos removal licences and further information on asbestos, please visit the Health and Safety Executive.
Domestic disposal
You can dispose of small amounts of asbestos waste from your house for free at the Household Waste Recycling Centre at Kendal, Canal Head North, LA9 7DB.
The maximum that will be accepted on any day is four sheets, or equivalent, with a maximum of three visits.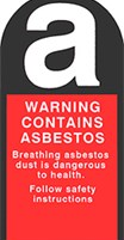 Asbestos must be double wrapped in plastic and sealed with tape before visiting the site.
Staff must be informed on arrival. Do not put the sheets or bags in a skip or just leave them.
Do not break up asbestos sheets as this is dangerous.

Fly tipped waste