Breastfeeding Friendly Scheme
Last Updated: 6 September 2023
The aims of the South Lakeland Breastfeeding Friendly scheme are to: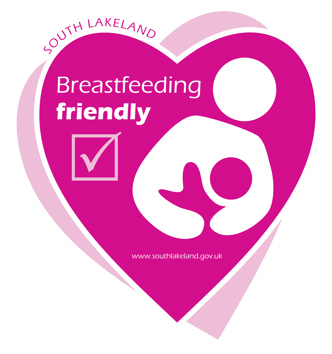 support mothers to feel confident breastfeeding out and about
be a way that communities and businesses can show they welcome and support breastfeeding
raise awareness about the benefit and barriers to breastfeeding
Breastfeeding is good for mums, babies and the environment but many women feel nervous about breastfeeding out and about and this can mean they choose not to breastfeed or that they stop breastfeeding before they want to. Concerns about breastfeeding in public (such as embarrassment and negative public attitudes) have been identified as one of the main barriers to breastfeeding. By signing up to this scheme businesses and organisations can help show that they welcome and support breastfeeding families by displaying an easily recognisable sticker and sharing information with their staff and volunteers about why breastfeeding is important and how it is protected.
It is important to remember that the right to breastfeed in any public place is protected by law and that most women only have positive experiences of breastfeeding out and about.
To join the Breastfeeding Friendly scheme, businesses must sign a declaration agreeing that they (and any staff) will support a breastfeeding mother on their premise.
To join the scheme please contact the Public Protection team.
Current members of the South Lakeland Breastfeeding Friendly Scheme:
Arnside
Bob-In Cafe, New Barns Caravan Park, 2 The Barn, New Barns, Arnside, Lancashire, LA5 0BN
Kirkby Lonsdale
The Churchmouse at Barbon, New Road, Barbon LA6 2LL
Smile Day Nursery, High Biggins, Kirkby Lonsdale, Carnforth, LA6 2NP 
Milnthorpe
Lakeland Wildlife Oasis, Hale, Milnthorpe LA7 7FE
Cafe Ambio, The Auction Mart, Junction 36, Crooklands, Near Kendal LA7 7FP
Milnthorpe Family Centre, Joeys Nursery, Firs Road, Milnthorpe, LA7 7QF
The Olive Tree Eatery, 49 Beetham Road, Milnthorpe LA7 7QN
Milnthorpe Sure Start Children's Centre, Firs Road, Milnthorpe, LA7 7QF
Kendal
Low Sizergh Barn, Low Sizergh Farm, Sizergh, Kendal LA8 8AE
Wilf's Catering Ltd, Staveley Mill Yard, Back Lane, Staveley, Kendal LA8 9LR
Staveley Natural Health Centre, Unit 10, Staveley Mill Yard, Staveley, Kendal LA8 9LR
Cafe Ambio Ings, Ings Village, A591, Windermere LA8 9PY
Lakeland Maze Farm Park, Raines Hall, Sedgwick, Kendal LA8 0JH
Café Nova, 27 - 53 Finkle Street, Kendal, Cumbria, LA9 4AL
Brewery Arts Centre including Warehouse Cafe, 122a Highgate, Kendal LA9 4HE
Playbase Nursery, Beezon Road, Kendal, LA9 6BL
The Lakeland Climbing Centre Ltd, Lake District Business Park, Kendal LA9 6NH
Netherfield CC, Parkside Road, Kendal LA9 7BL
ASDA, Burton Road, Kendal LA9 7JA
Courtyard Cafe, Quaker Tapestry Ltd, Stramongate, Kendal LA9 4BH
Masons Yard 24, 22 Stramongate, Kendal LA9 4BN
Brew Brothers, 69 Highgate, Kendal LA9 4ED
Costa Coffee, Unit 33 Elephant Yard, Kendal LA9 4LZ
Kendal Library, Stricklandgate, Kendal LA9 4PY
Prelude, 1 Library Road, Kendal LA9 4QB
Marks and Spencer, Library Road, Kendal LA9 4QB
Charlie's Cafe Bar, 95 Stricklandgate, Kendal LA9 4RA
Castle Street Centre, Castle Street, Kendal, LA9 7AD
RVS T/Bar Westmorland General Hospital, Burton Road, Kendal LA9 7RG
Kendal Leisure Centre, Burton Road, Kendal LA9 7HX
Terrazzo, 7 Riverside Walk, K Village, Kendal LA9 7SH
Kendal West Sure Start Children's Centre, Kendal Green, Kendal, LA9 5PP
Kendal East Sure Start Children's Centre, 42a Grasmere Crescent, Kendal, LA9 6LP
South Lakeland House, Lowther Street, Kendal, Cumbria, LA9 4DQ
Safehands Nursery, Captain French Lane, Kendal, LA9 4HP
Sedbergh
Smatt's Duo Cafe, 32 Main Street, Sedbergh LA10 5BL
Weaver's Cafe, Farfield Mill, Garsdale Road, Sedbergh LA10 5LW
Sedbergh Sure Start Children's Centre, Settlebeck High School, Long Lane, Sedbergh, LA10 5AL 
Sedbergh Library, Main Street, Sedbergh, LA10 5BN
Grange Over Sands
Thyme Out Grange Ltd, Devonshire House, Main Street, Grange Over Sands LA11 6DP
The Hazelmere, 1-2 Yewbarrow Terrace, Grange-over-Sands LA11 6ED
Harry's Cafe Bar, Yew Tree Barn, Low Newton, Nr Cartmel LA11 6JP
S Café Ltd, Yewbarrow Terrace, Main Street, Grange Over Sands, LA11 6ED
Fish Over Chips, Kents Bank Road, Grange Over Sands LA11 7EY
Flookburgh Sure Start Children's Centre, Flookburgh Primary School, Winder Lane, Flookburgh, LA11 7LE
Ulverston
Ulverston Library, King Street, Ulverston LA12 0BT
Sefton House, 34 Queen Street, Ulverston LA12 7AF
The Hot Mango Cafe, 27 King Street, Ulverston LA12 7DZ
Re:Vista at Emmanuel Christian Centre, Mill Street, Ulverston LA12 7EB
Olde Ulverston Tea Rooms, 2 Lower Brook Street, Ulverston LA12 7EE
Poppies Cafe and Bistro, 4 Union Street, Ulverston LA12 7HR
Coach House Cafe and Bistro, Ford Park, Ulverston LA12 7JP
The Little Green Juicy Cafe, 19 Market Street, Ulverston LA12 7LB
Home and Finance, 14 New Market St, Ulverston LA12 7LN
Costa Coffee, 36-38 Market Street, Ulverston LA12 7LS 
Mad Hatters Tea Rooms, 46 Market Street, Ulverston, LA12 7LS
Penny Bridge Nursery, Penny Bridge, Ulverston, LA12 7RQ
Lakes Aquarium, Lakeside, Newby Bridge, Ulverston LA12 8AS
Cafe Ambio, Lakeland Motor Museum, Old Blue Mill, Backbarrow, Newby Bridge LA12 8TA
Sweet Scents, Unit A-B, Unit D, Ulverston Auction Mart, North Lonsdale Terrace, Ulverston LA12 9AU
Manjushri KMC, Conishead Priory, Ulverston LA12 9QQ
Ulverston Community Enterprises, Coronation Hall, County Square, Ulverston, LA12 7LZ
Ulverston Sure Start Children's Centre, Lund Terrace, Ulverston, LA12 9BE
Jute, 19-21 King Street, Ulverston, Cumbria, LA12 7DZ
Broughton
Broughton Village Bakery and Cafe, 4 Princes Street, Broughton LA20 6HQ
Coniston
Hollands Cafe, Tilberthwaite Avenue, Coniston LA21 8ED
Meadowdove Cafe, Hawkshead Old Road, Coniston LA21 8ET
Ambleside
Bilbos Cafe, 3-4 Cheapside, Ambleside LA22 0AB
The Pier Cafe Bar, Windermere Lake Cruises, Waterhead Pier, Ambleside LA22 0EY
Grizedale Cafe, Grizedale Forest Park, Cumbria LA22 0QJ
The Giggling Goose Cafe, The Old Mill, North Road, Ambleside LA22 9DT
Grasmere
Faeryland Grasmere, Red Bank Road, Grasmere LA22 9PX
Windermere
Booths, The Old Station, Victoria Street, Windermere LA23 1QA
Lakes Sure Start Children's Centre, Goodly Dale, Lake Road, Windermere, LA23 2JX
Little Rascals Daycare, High View, Sun Hill Lane, Troutbeck Bridge, Windermere, Cumbria, LA23 1HJ
Bowness on Windermere
Alpine Cafe, 1 Grosvenor Terrace, Bowness on Windermere LA23 3BS
KD's Cafe, 60 Quarry Rigg, Bowness-on-Windermere, Windermere LA23 3DU
Kendal Creperie, Rectory Farm, Glebe Road, Windermere LA23 3GZ
The Old Pump House, Glebe Road, Bowness on Windermere LA23 3HE
The Fun Factory, Glebe Road, Bowness on Windermere LA23 3HE
Bowness Pier Coffee Shop, The Promenade, Windermere LA23 3HQ
Burton-in-Kendal
Spotted Dog Children's Centre, Dalton Hall Business Centre, Dalton Lane, Burton-in-Kendal, LA6 1NJ