Kendal Parkside cemetery
Last Updated: 25 August 2022
Parkside Road, Kendal, Cumbria, LA9 7DU
The cemetery is on both sides of Parkside Road and contains Church of England, non-denominational and Roman Catholic sections. There is also a dedicated section for the interment of cremated ashes.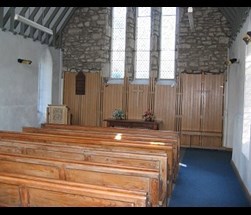 Kendal Parkside cemetery chapel
The cemetery chapel will seat 50 people. It is available for use before burial in the cemetery, or for a service only before going to a crematorium.
There is no musical equipment provided in the chapel, but you can arrange music during a service with your funeral director.
You may also use the chapel for a memorial service without immediate burial or cremation.
Visiting Kendal Parkside cemetery
Kendal Parkside cemetery plan (JPEG 304KB / 1 page)
There is car parking at the entrances and a public toilet near the main entrance, behind the former cemetery lodge. These former lodges are now private and the residents should not be disturbed, except in an emergency.
Water taps are available outside the toilet near the entrance and at several points throughout the cemetery. There are large bins for rubbish and dead flowers at the two main entrances.
This is a very large cemetery and you should check grave location details with the Bereavement Services office before visiting.
Our grounds maintenance contractors, Continental Landscapes, have a depot in the former mortuary chapel building on the right hand side of Parkside Road. Their staff will be pleased to answer any queries and help if they can.