Fly-tipping
Last Updated: 21 November 2023
Fly-tipping is illegal dumping of rubbish. It is a serious offence and carries a large fine, or a prison sentence. It can cause environmental damage, can be dangerous and is costly to deal with. You should report fly-tipping straight away. We will investigate all reports.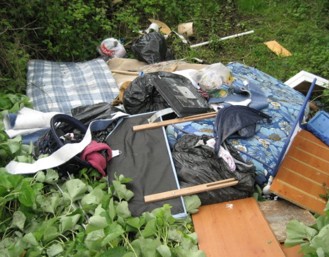 How to report fly-tipping
or call our customer services team.
Please tell us:
the location
a description of the waste that has been tipped
What to do if you see fly-tipping
If you see somebody in the act of fly-tipping you should call the police on 101. You should not approach them, they might become aggressive, don't put yourself at risk.
Fly-tipped waste can be dangerous. Do not touch the waste, or open any bags or containers. Don't disturb the site, we might find evidence that helps us identify and prosecute the fly-tippers.
What we can do about fly-tipping
We will deal with fly-tipping on publicly owned property, roads and paths. We aim to investigate all reports within two working days.
Penalties for fly-tipping
We can investigate and prosecute cases where there are witnesses or there is evidence we can use.
We can issue fixed penalty notices where we have evidence to suspect a fly-tipper.
Prosecution for fly-tipping can carry an unlimited fine (if taken through the Crown Court) or imprisonment.
Fly-tipping on private land, your responsibilities
It is the land owner's responsibility to secure and clear their property of dumped waste. Landowners must dispose of the rubbish responsibly.
We can give advice on securing your land to prevent fly-tipping.