Banner advertising
The purpose of our banner advertising is to provide publicity for local charitable, cultural and educational events and activities which will benefit Kendal and the surrounding areas.
The banner is located across the main street in Highgate, running from Kendal Town Hall to the building opposite.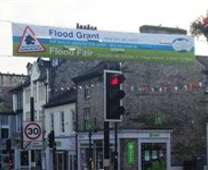 Please note: Advertisers need to supply their own banner.  Advertising is subject to space availability and is at the discretion of the Town Hall Manager.
Banners may be erected for a period of 7 days between 1 April and 5 November. Banner policy (DOC/37KB/2 pages)
Events and activities should:
serve both the local population and visitors to the area
be accessible and open to all 
not discriminate on the grounds of age, gender, race, religion, colour, nationality, ethic origin or disability
Organisations should not have restricted membership
Unfortunately applications of a commercial nature are not eligible.