Banner advertising
Last Updated: 26 September 2023
The purpose of our banner advertising is to provide publicity for local charitable, cultural and educational events and activities which will benefit Kendal and the surrounding areas.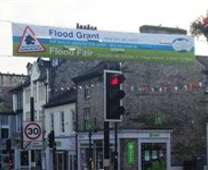 The banner is located across the main street in Highgate, running from Kendal Town Hall to the building opposite.
Please note: advertisers need to supply their own banner. 
The cost to erect a banner is now £185 inclusive of VAT, this is reviewed annually.
Advertising is subject to space availability and is at the discretion of the Town Hall Team Leader.   
Banner advertising application form (DOC 19KB / 1 page)
Application criteria
applications will be considered from local charitable, educational or cultural events of significance that will benefit the town as a whole. Applications of a commercial nature will not be eligible
events and activities should be accessible and open to all and not discriminate on the grounds of age, gender, race, religion, colour, nationality, ethnic origin or disability. Organisations should not have restricted membership
events/organisations should be situated within a seven mile radius of Kendal or at our discretion
banners may only be erected for a period of up to seven days inclusive of erection and taking down, between 1 April and 5 November. Applications outside this period or, for a period longer than seven days, will require special consideration/planning permission via Planning Committee
the content and style of the banner must be approved by the Town Hall Team Leader, Delivery and Commercial Services. Any sponsorship on the banner will be limited to 15% of the total banner area
banners must be double sided and have wind vents cut into the face of the banner with anti-rip finishing to the end of each vent. The depth of the banner must be 4ft. The length can be either 20ft, 25ft or a maximum size of 32ft with eyelets having 10mm holes set at approximately 32 inches along the length of the banner. Banners are to be delivered to the Town Hall Team Leader the day before erection
the Town Hall caretakers will erect and take down Banners for which a charge of £185 will be made by us. A cheque to this value should accompany the booking form. Please note the banner must be removed as soon as possible after it has been taken down
banners are accepted on a first come first served basis or at the discretion of the Town Hall Team Leader
we reserve the right to refuse an application
proof of current adequate third party insurance cover for public liability must be provided by all organisations wishing to erect a banner. A minimum of £2 million cover is required. This will indemnify the Highway Authority against all claims arising from accidents attributable to the presence of a banner within Highway limits. Please send a copy with the completed application form
applications will be dealt with through the Town Hall Team Leader, Kendal Town Hall, Highgate, Kendal, Cumbria LA9 4DL
Applications are normally processed within five working days from receipt of your letter, although if there is a need for a planning report to go to committee this may take longer to process. We will keep you informed if a delay is experienced.
Please note that your application is provisional. Completion of the form does not mean that your application is confirmed until confirmation is provided from Kendal Town Hall office.