Kendal Town Centre WiFi
Last Updated: 22 September 2021
Kendal's free town centre WiFi is brought to you by our Economic Development team. The pilot WiFi scheme is the first of its type in the South Lakes area and may be introduced into more towns and villages if successful. Other WiFi schemes have been launched in various towns and cities across the UK and have proved very popular.
The WiFi is now live and we continue to work with appointed contractors WiFi Sparks Ltd on its upkeep and maintenance.
You can access the WiFi along the main shopping routes in the town centre, highlighted on the map below.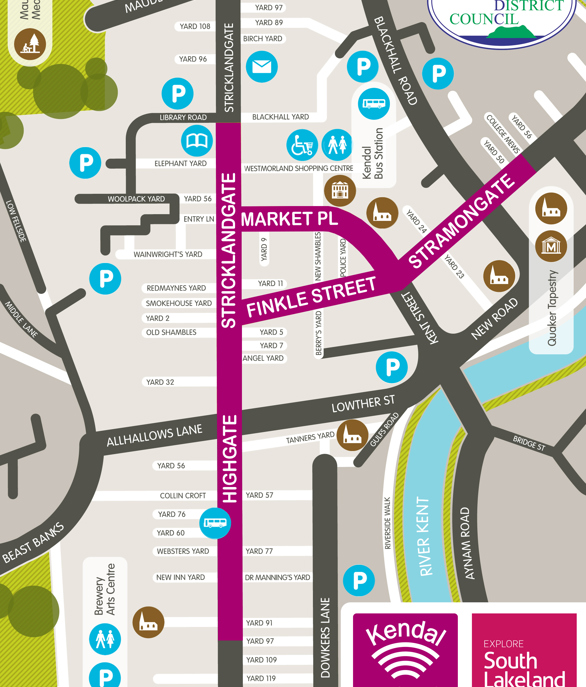 Benefits of the service
improved speed and accessibility of internet in Kendal town centre, avoiding any data charges
a new welcome screen, allowing users to easily find shops, restaurants, attractions, events, offers and services in the town
a digital platform where businesses can increase awareness and engage with their customers
an enhanced town centre visitor experience
more capabilities for social interaction, helping to make the town centre an attractive meeting place and communal hub
Cost of the service
The service is free to the end user, but the cost for its installation and maintenance has been around £20,000.
If any money is generated through the scheme it will either offset the cost of the project or be reinvested to continue the scheme beyond the initial trial period.
Precautions to guard against the misuse of the WiFi
Download and time limits will ensure a fast connection for all users. A content filtering system will be put in place to block access to any undesirable websites.