Fill Up your water bottle scheme
Last Updated: 25 February 2022
'Fill Up' is our scheme to encourage members of the public to drink more water, reduce their use of plastic and to explore local businesses, while also saving people money. 
Wherever you see the 'Fill Up' logo on a business window, they will fill up your water bottle for free. There are other similar schemes across the country, so look out for these when you are outside South Lakeland.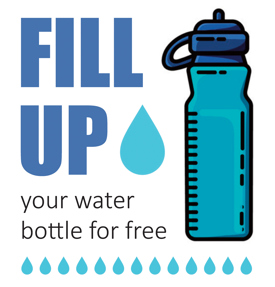 How to get your business involved in 'Fill Up'
To get involved in the 'Fill Up' scheme please email publicprotection@southlakeland.gov.uk.
We will post a window sticker to you. Displaying this in your window means you agree to fill up a water bottle for members of the public, even if they have not made a purchase in your business that day.
You do not need to be a food business to take part.
Current Members of the South Lakeland Fill Up Scheme:
Ambleside
Three Shires Inn, Little Langdale, Ambleside, LA2 9NZ
Melrose Guest House, Church Street, Ambleside, LA22 0BT
Kysty Ltd, 3-4 Cheapside, Ambleside, LA22 0AB
Giggling Goose Café, The Old Mill, North Road, Ambleside, LA22 9DT
Langdale/Ambleside Mountain Rescue Team, Low Fold, Lake Road, Ambleside, Cumbria, LA22 0DN
Hayes Garden World, Lake Road, Ambleside, Cumbria, LA22 0DW
The Apple Pie, Rydal Road, Ambleside, LA22 9AN
Arnside
Arnside Chip Shop, Promenade, Arnside, LA5 0HF
Averys of Arnside, 51 Silverdale Road, Arnside, LA5 0AL
Barbon
The Churchmouse at Barbon, Barbon, LA6 2LL
Burton
The King's Arms Hotel, Main Street, Burton, via Carnforth, LA6 1LR
Coniston
Herdwicks, Old Telephone Exchange, Yewdale Road, Coniston, LA21 8DU
Grange
The Grange Cake Company, Imperial Buildings, Main Street, Grange Over Sands, LA11 6DP
Promenade Café, Promenade, Grange over Sands, LA11 7DH
Lindale Stores & Post Office, Lindale, Grange over Sands, LA11 6LT
Lakeland Optical, Main Street, Grange over Sands, LA11 6DP
Grasmere
Glenthorne Guest House, Easedale Road, Grasmere, LA22 9QH
Hawkshead
Ginny's Teapot Ltd, The Square, Hawkshead, LA22 0NZ
Kittchen, The Square, Hawkshead, LA22 0NZ
Collins and Butterworth Ltd, The Pharmacy, Main Street, Hawkshead, Cumbria, LA22 0NS
Kendal
South Lakeland House, Lowther Street, Kendal, Cumbria, LA9 4DQ
Pandemonium Pots, Unit 9 Blackhall Yard, Stricklandgate, Kendal, LA9 4LU
The Aga Shop, 50A Stramongate, Kendal, LA9 4BD
White Stuff, 21 Finkle Street, Kendal, LA9 4AB
Growing Well, Low Sizergh Farm, Helsington, LA8 8AE
Lakeland Climbing Centre, Lake District Business Park, Kendal, LA9 6NH
Comida Food, 90-92 Highgate, Kendal, LA9 4HE
AJM Decorating Ltd, Unit 3, Shap Road Industrial Estate, Kendal, Cumbria, LA9 6NZ
Ivy Bank Home and Gift, 4 Kirkland, Kendal, Cumbria, LA9 5AB
South Lakes Foyer, Yard 95 Stricklandgate, Kendal, Cumbria, LA9 4RA
Sanctuary Health and Fitness Club, Beezon Road, Kendal, Cumbria, LA9 6EL
Sundial Guest House, 51 Milnthorpe Road, Kendal, Cumbria, LA9 5QG
Kendal Physiotherapy and Sports Injuries Centre, 96 Stricklandgate, Kendal, Cumbria, LA9 4PU
Ring O'Bells, 37 Kirkland, Kendal, Cumbria, LA9 5AF
Sizergh Castle, Kendal, LA8 8DZ
Levens
Levens Village Shop, Main Street, Levens, Kendal, LA8 8ND
Sedbergh
Three Hares Café, 57 Main Street, Sedbergh, LA10 5AB
Staveley
Wilf's Catering Ltd, Mill Yard, Back Lane, Staveley, LA8 9LR
Ulverston
The Square, 8 Market Place, Ulverston, LA12 7BA
The Little Green Clinic, 19 Market Street, Ulverston, LA12 7LR
Canal Head Services, Oubas Hill, Ulverston, LA12 7LY
Amigos the Mexican, 30 Cavendish Street, Ulverston, LA12 7AD
The Fisherman's Arms, Coast Road, Bardsea, LA12 9RJ
JM Market Café, New Market Street, Ulverston, LA12 7LJ
The Farmers Arms, Lowick Green, Ulverston, LA12 8DT
Ride Bikes, 5 Union Place, Ulverston, LA12 7HS
Windermere
The Smith, Unit 1 Victoria Forge, Victoria Street, Windermere, LA23 1AD
Just Good Food, 30 Main Road, Windermere, LA23 1DY
The Easy Breeze ltd, 5 Church Street, Windermere, LA23 3DG
The Mortal Man Inn, Troutbeck, Windermere, LA23 1PL
Blackwell, The Arts & Crafts House, Bowness on Windermere, Cumbria, LA23 3JT
Fell Foot Park, Newby Bridge, Windermere, Cumbria, LA12 8NN
Sugar & Spice, 11 Main Road, Windermere, Cumbria, LA23 1DX